10 Best Reality TV Shows Of All Time, According To IMDb
5 min read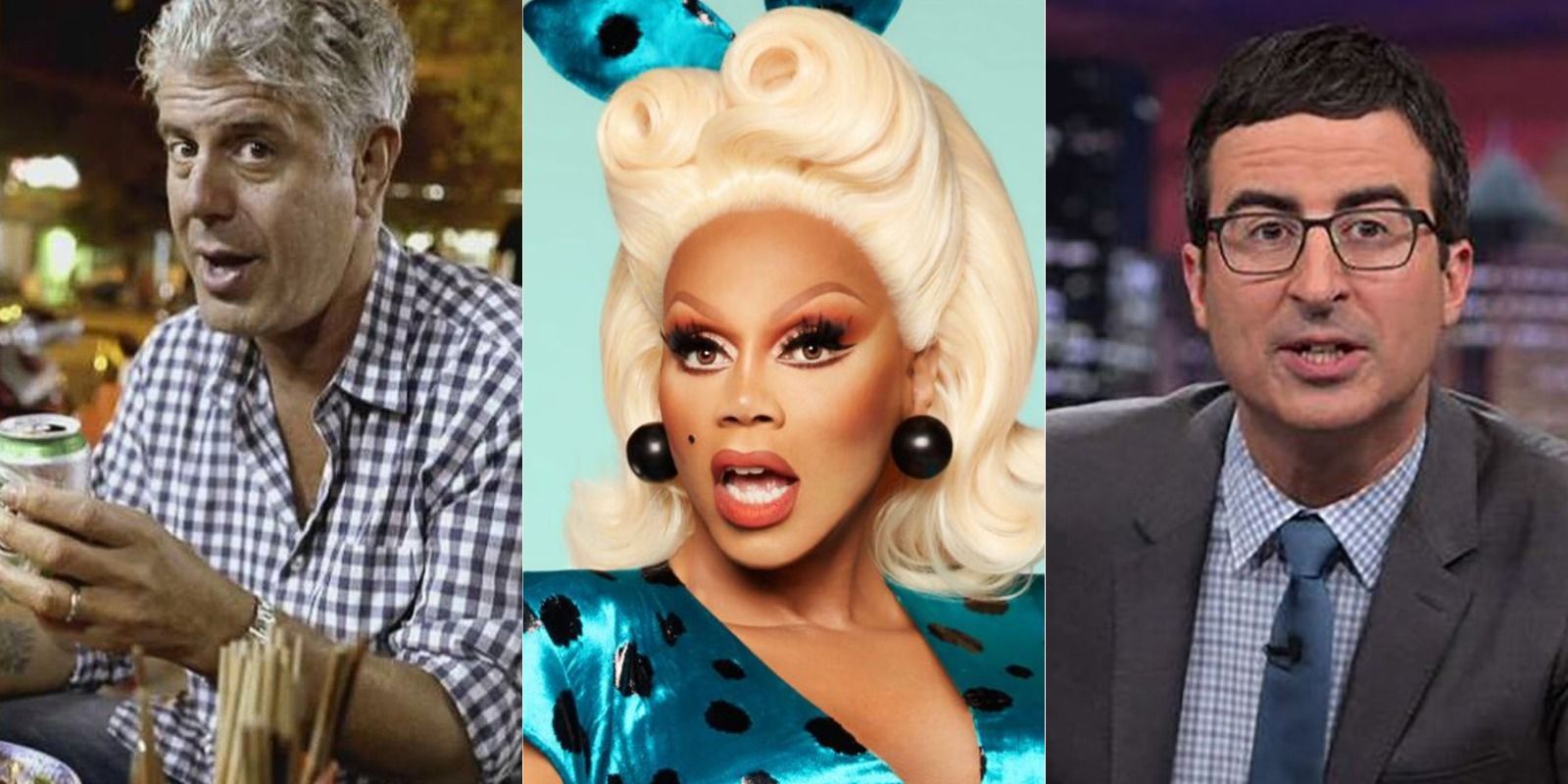 Reality TV shows are one of the most popular formats on the air and on streaming services, and it's been that way since the early 21st century. IMDb has over 22,000 reality shows listed on the site. From competition shows to family dramas to the just-plain odd, there's definitely a show out there for everyone.
Related: 10 Hip-Hop-Themed Reality Shows
However, for IMDb users, which shows have outshined their competition and become the best of that 22,000? Based purely on ratings, most of the actual top 10 were unheard-of shows with very few user ratings, but for shows with at least 5,000 ratings, these were the best.
10

Anthony Bourdain: No Reservations – 8.5
Cooking shows are a common reality show concept, as are those about food, but chef Anthony Bourdain combined the two by bringing a chef's expertise to a travel food show with CNN's No Reservations.
Related: 10 Best Episodes Of Anthony Bourdain's No Reservations, According To IMDb
In the show, Bourdain traveled around the world to experience not only the cuisines themselves, but the cultures that produced them. Informative and engaging, the show, and its follow-up series Parts Unknown, acted as Bourdain's love letter to food and people. It's a great part of the culinary legacy he left behind.
9

Queer Eye (Reboot) – 8.5
Comparing Queer Eye's original show and the Netflix reboot is something that was inevitable after the reboot's release, and fans may differ on which version they prefer. However, for IMDb, Netflix's reboot is the much better show, getting an 8.5 to the original's 6.2/10.
In both versions of Queer Eye, a group of five men help an episode's subject improve through each man's different expertise, whether it be fashion, grooming, culinary, design, or just general culture. Combined, these men make up what fans call the "Fab Five." Judging by IMDb, the show is nothing but fabulous.
8

RuPaul's Drag Race – 8.5
Another show focusing on fashion, RuPaul's Drag Race is a pop-culture phenomenon. It not only has the most popular subreddit for reality TV shows, but it has also helped popularize drag races in American culture, as well as helped expose mainstream audiences to aspects of LGBTQ+ culture.
Its great when shows can break new ground like this, but it's even better when they're good, and RuPaul's Drag Race more than hits the marks for IMDb fans. Going on 13 years on the air, and with several spin-offs, there's no doubt this show will always be iconic.
7

Love on the Spectrum – 8.6
Netflix's Love on the Spectrum follows several autistic adults as they venture out into the dating world. While some people had unpopular Love on the Spectrum opinions, the very fact that these negative opinions were unpopular in the first place shows that the show has overall connected with audiences.
One of the biggest concerns for the autistic community is how characters with autism are represented in media, and so it is genuinely heartwarming to see a show that puts real autistic people front and center. While not shying away from their struggles, the series also shows their triumphs.
6

The Great British Bake Off – 8.6
It's great, it's British, and it's a competition show centered around baking; the title is nothing if not transparent. Yet behind the simple title is a show that celebrates the fun of competing, as well as, like Anthony Bourdain: No Reservations, the love of food.
Related: The Great British Bake Off – 10 Behind-The-Scenes Facts You Never Knew
What also makes the show stand out is that the bakers featured are all amateurs, rather than professionals. Plenty of reality shows display competition between skilled experts, but the fun of amateurs is that it's more relatable to the audience. Viewers can feel as if they're there, one of the bakers, and it's a joy.
5

Impractical Jokers – 8.6
Impractical Jokers centers around four comedian friends who have to embarrass themselves in public at the direction of their friends, and the one who fails the most has to face a punishment at the end of the episode. What could go wrong?
While some Impractical Jokers pranks went too far, the show is consistently hilarious, and showcases a genuine group of friends doing absolutely ridiculous things together. Maybe viewers wouldn't want to be part of the challenges, but plenty would definitely love to be part of a fun group like the jokers.
4

Top Gear – 8.7
Launched in 2002 as a reboot of a 1977 TV series, Top Gear was spearheaded by Jeremy Clarkson from the first episode until 2015, where he also acted as a host; Clarkson would return as a special guest in 2021. Well before he departed, however, Top Gear's pop culture stamp had already been secured.
Ever since cars have been around, they've had tons of devoted fans who love to discuss their design, and either drive the cars, or watch others drive them. Top Gear also has the distinction of being the only reality show with more than 100,000 user reviews on IMDb.
3

Car Masters: Rust to Riches – 8.8
Another car-centric show, Netflix's Car Masters: Rust to Riches focuses on the restoration of cars by Gotham Garage, known for their work providing vehicle-related props to film and TV productions. The garage will purchase a car, restore it or give it a different look, and then sell it for profit.
Car Masters follows in the vein of restoration shows that began with American Restoration and Counting Cars, spin-offs of Pawn Stars; Netflix itself even continued the trend with Rust Valley Restorers released after Car Masters. It's a satisfying watch for car buffs and/or restoration-show enthusiasts.
2

Last Week Tonight with John Oliver – 8.9
Originally known from The Daily Show, comedian John Oliver got his own news-satire show on HBO in 2014. Last Week Tonight with John Oliver would quickly gain notice and acclaim for its end-of-episode stunts like Jeff the Diseased Lung or the children's book Marlon Bundo.
However, what makes Last Week Tonight so impressive is how it manages to balance a comedic tone with genuinely informative segments, something made possible by HBO's subscription format, and which helped differentiate it from both The Daily Show and all other political shows on air at the time.
1

Clarkson's Farm – 9.1
It seems that Jeremy Clarkson can be crowned IMDb's favorite reality-show personality, considering his co-hosting of Top Gear and his solo hosting of this show. Clarkson's Farm follows Clarkson in what could almost be considered the opposite of the Top Gear set: his own farm.
The Amazon Prime show received critical acclaim, and was not only one of the most-frequently-rated reality shows on IMDb, but the highest-rated reality show above 5,000 ratings on the platform. Clarkson's Farm season 2 is highly anticipated, and the first one definitely merits a watch.
NEXT: 10 Best Jeremy Clarkson Quotes Of All Time

Next
10 Video Game Adaptations That Didn't Follow The Source Material

About The Author